I have one New Year's resolution this year.
To do me.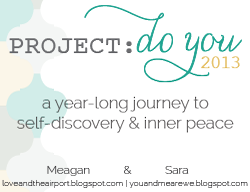 For the first time in 12 years, I'm not taking care of a miniature human 24/7. And of course, husbands don't like to be smothered, so taking care of Josh is minimal work. That leaves me. I have to get to take care of myself.
For once in my life, I feel entitled to pamper, exercise, and indulge in my passions, so I'm going to do just that. I need to become more independent and find ways to work my mind and body's energies so they're not bottled up and causing trouble. This year, I'll be looking out for #1 and making sure that she knows herself and is at peace with the woman she is becoming.
Here's what I'll be working on this year to make 2013 the year of "Meagan."
Each Sunday, I'll be asking myself (and posting) these questions.
What is something off of my "Do You" list that I attempted this week?
What did I do this week to indulge in my passions?
What did I do this week to get my body moving?
What did I learn about myself this week?
What did I do to become more independent this week?
What is something new that I tried this week?
What made me happy this week?
What made me blue this week?
Who did I meet this week and how can I further my relationship with them?
Who is someone I helped and loved this week?
How do I feel today after my experiences this past week?
I feel that these questions will be a great way to keep track of how I develop my independence and passions throughout the coming year.
I'm getting really excited to see myself grow this year and I hope, that if you're interested in "doing you," you'll join with my super sweet co-host,
Sara
, and I in our journey of self-discovery. Feel free to answer as many or as few of the questions as you're comfortable with (or even add your own!). We're hoping to turn this into a link up each week, if you're interested, so feel free to give us some feedback!
What have you resolved to do this year to make yourself priority #1?