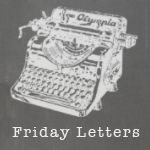 Dear Future Baby Nix,
You will NEVER be getting a pacifier. Ever.
Dear Eyebrows,
Pleeeeease grow back already! I'm begging you! I look horrendous.
Dear Second Anniversary Trip,
I can't wait for you! We can't decide what we're doing for you just yet, but we DO know it involves a fun little road trip.
Dear iPhone 5,
I love you. Your larger, crisper screen, your high-quality camera with panoramic capabilities, your much better speakers. You're just all around awesome. And your skin doesn't look too bad either. ;)
Dear Parks & Rec and Netflix,
THANK YOU! We've been waiting forever for one of our shows to add some new episodes and you've been keeping us good company this week.
Dear Autumn,
It took ya long enough. I'm always so impatient with your horrible punctuality (according to my schedule) and this season was no exception. Next year, show up on time...like, in August.
Dear Three Day Weekend/Chris Columbus,
I have a feeling you and I are going to get a lot done in our long weekend together. Be prepared.
Dear Husband,
You. Are. Amazeballs. Thank you so much for all of the crazy things you do for me (i.e. trade phones when mine goes berzerk, take it to AT&T to get it fixed, and bring it back to me with a venti pumpkin spice while I'm at the apple orchard with the littles). I have no idea what I'd do without you. Probably die.