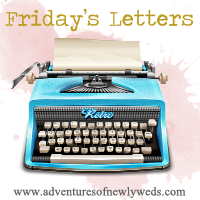 Dear Mom,
You've been so strong these past few weeks and especially the past few days. I know that you're struggling with the major changes your life has taken, but I also know that you'll get through it and continue to be a blessing to the world.
Dear Doctors F, R, F, and R
(yes, all of her doctors have the same initials)
,
Thank you, thank you, THANK YOU for taking such fantastic care of my mommy and for being kindhearted and gentle through this tough time. Your skills have saved her life and for that, I can never repay you.
Dear Nurses D and D,
You both have such gentle hearts. You truly have a gift of making people feel cared for, without making them feel helpless. I know my mom appreciates your care, and I also appreciate you taking such great care of her during her stay. Thank you.
Dear Joshie,
Sometimes you drive me crazy. And sometimes I just want to slap you. But all the time, I just want you near me and holding me tight. I'm sorry for my attitude lately and for being so preoccupied. Thanks for putting up with my bullshit.
Dear Target and West Elm,
You seriously need to stop with all of the attractive home decor that my wallet can't afford.
Dear Bloggie Friends,
Never, in a million years, did I think I could be friends with people I've never met. But you have all been so supportive and caring through these crazy times in my life and I greatly appreciate your thoughtfulness. If only we all lived on a secluded island just for bloggers so we could party all the time.
XOXO,
Meagan