Can you believe it's already December?!?
It seems like just last week we were unpacking boxes in our new apartment, but alas, that was MAY.
It's incredible how quickly time flies.
Anywho, I'm here to talk about some amazing things going on that have me bubbling with excitement about this Christmas season!
1.
Chambanachik's Christmas Giveaways!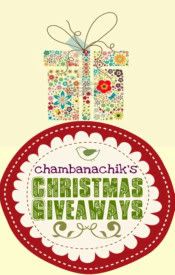 My dear blog friend, Erika, is hosting a series of amazing Christmas giveaways thru December 20th. So far, the giveaways have been of a wonderful selection, from
Bravo Tango Tees
to
InspiriBody Soaps
. Each day is a surprise and I'm always excited to see what's next on the menu! Hop on over to enter (and while you're there, you might as well check out her adorable, bouncing daughter, Millie). :)
2.
Mackey Madness/The Smitten Mintons Ornament Swap!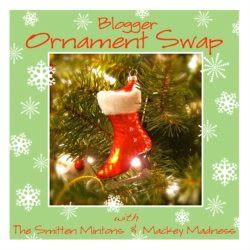 A few weeks ago I signed up for this adorable Blogger Ornament Swap hosted by
Megan Mackey
and her blog friend,
Julie Minton
. I think this was the best Christmas swap around, people! Not only are these two bloggers super sweet and hilarious, but who doesn't like getting a surprise Christmas ornament to add to the tree? :) It's too late to enter (sorry), but I was a last-minute addition and was teamed up with Christy from
Life As A New Mrs
. We've exchanged a few emails and I'm so excited for her to receive her ornament next week. Be on the lookout, Christy! ;)
3. And last, but not least,
Lisha of One House, One Couple
and the rest of my amazing readers.
I know this one isn't really Christmas related, but I felt I should share this. Lisha is a brand new blogger friend and has already been so encouraging. Earlier this week she discovered my blog and encouraged me to keep blogging (since I hadn't written a post in ages!). The reminder that people were actually still reading my little ol' blog is exactly what I needed to get my butt in gear. Since then, I've discovered her budding blog about how she and her husband bought and completely transformed a house in 2 years. So far, the tour of how the house USED to look has me itching to see the big reveal! Definitely check her out.
I also wanted to thank those of you who commented on my posts from earlier this week with encouragement and grace. Even though I only have 30 followers, the 30 of you have blessed my life and created a community that I'm so happy I get to be a part of. :) Thank you.
I can't wait to share a few more posts I've got lined up, but they'll have to wait until next week. :)
I hope you all enjoy this lovely first weekend of December!